'Lola' – Amethyst Chevron 16mm Beads with Sterling Silver Clasp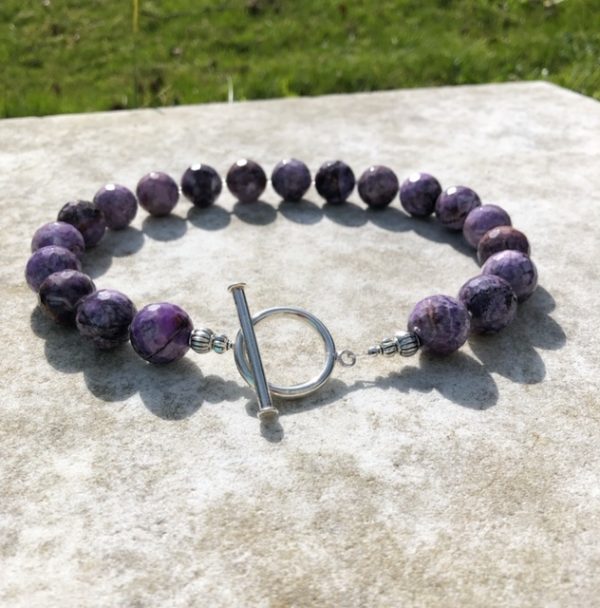 'Lola' – Amethyst Chevron 16mm Beads with Sterling Silver Clasp
Amethyst Chevron 16mm Beads with Sterling Silver Clasp
Product description
'Lola' – Amethyst Chevron 16mm Beads with Sterling Silver Clasp
This necklace, handcrafted with semi precious  Amethyst Chevron 16mm Beads with Sterling Silver Clasp , gushes purple elegance.
Its Sterling silver  Clasp adds a gorgeous glistening.
What is Chevron Amethyst good for?
Chevron Amethyst combines the strengthening and enhancing qualities of Quartz with the stress relieving qualities of Amethyst. .
.. Chevron Amethyst creates a strong healing field around the user, and as such, is a good choice to cleanse the aura and to enhance the immune system.
.
Couldn't we all use a little Amethyst  in our lives – and wardrobes?
Additional information
| | |
| --- | --- |
| Necklace Length | 30" (76.2cm) |
| Semi Precious Stones | Agate |
| Colour(s) | Purple, Silver |
| Necklace Type | Casual | Everyday, Dressy | Evening Wear, Statement |
| Dimensions | 50mm, 6mm |
| Materials | Agate, Silver Plated Beads, Sterling Silver |
| Clasp Type | Sterling Silver "Lobster" Clasp |
Be the first to review "'Lola' – Amethyst Chevron 16mm Beads with Sterling Silver Clasp"