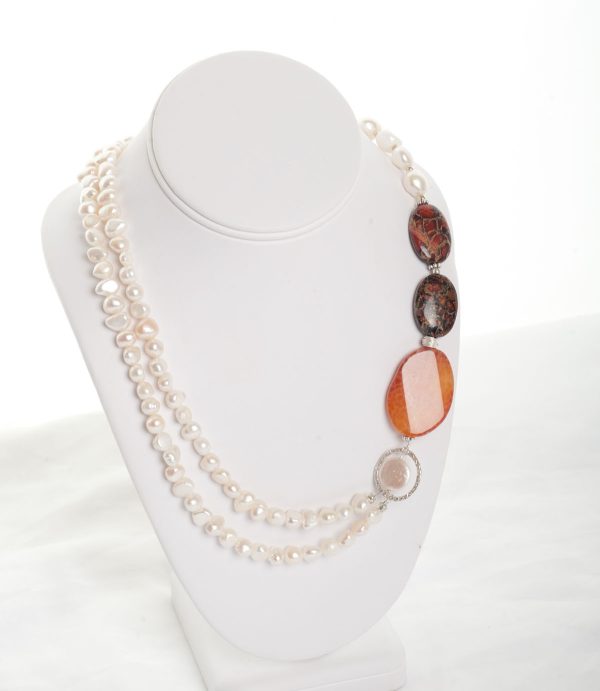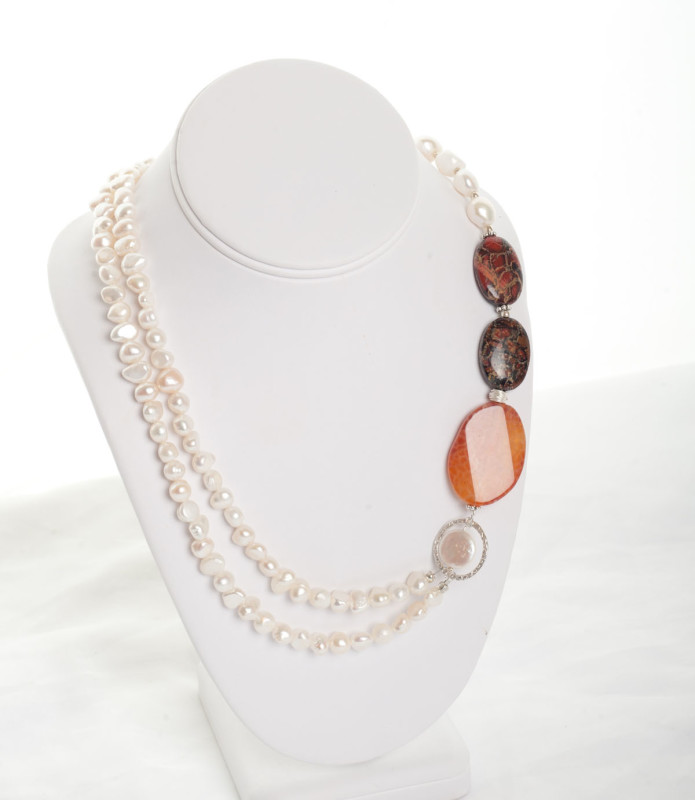 Clementine – Orange & Brown Spec'd Agate & Freshwater Pearl Necklace w/ Sterling Silver Lobster Clasp
€85.00
Description
This fabulous Orange & Orange with Brown Spec'd Agate and Frewhwater Pearl necklace handmade by Barbara Hall is truly a one of kind necklace that is made of 25mm – 35mm Orange and Orange w/Brown Agate beads with Sterling Silver Ring. This is a truly a must have to polish off any outfit. Like all semi precious stones Orange Agate enhances mental function as they assist in improved concentration, perception and analytical abilities, thus leading you to come to more practical solutions. Emotionally, this crystal helps to overcome negativity and bitterness of the heart. It heals inner anger, fostering love and the courage to start again.
This gemstone is useful for any kind of emotional trauma. It creates a sense of safety and security by dissolving internal tension. Spiritually, Agate raises consciousness, linking into collective consciousness and awareness of the oneness of life. This gemstone encourages quiet contemplation and assimilation of life experiences, leading to spiritual growth and inner stability.
Agate stabilizes the aura, eliminating and transforming negative energies. Its cleansing effect is power at both the physical and emotional levels. Placed on the heart, it will heal emotional dis-ease that prevents the acceptance of love. Placed on the abdomen, Agate stimulates the digestive process and eases gastritis. This gemstone heals the eyes, stomach and uterus. It strengthens the lymphatic system and the pancreas, while strengthening blood vessels and healing skin disorders.
Additional information
| | |
| --- | --- |
| Necklace Length | 26" (60.44cm) |
| Semi Precious Stones | Agate |
| Colour(s) | Brown, Orange, Silver, White |
| Pearl Type | Freshwater Pearls |
| Necklace Type | Casual | Everyday, Dressy | Evening Wear, Statement |
| Dimensions | 25mm, 35mm, 6mm, 7-8mm |
| Materials | Agate, Pearls, Sterling Silver |
| Clasp Type | Sterling Silver "Lobster" Clasp |
1 in stock
All jewellery is hand-crafted and custom variations can be made to order.