Blue and white veined Sodalite and yellow Kynite Semi – Precious Stone Bracelet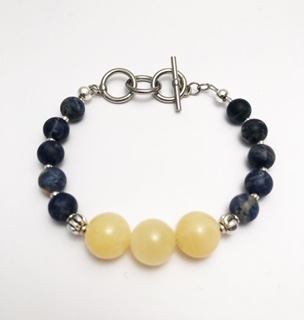 Blue and white veined Sodalite and yellow Kynite Semi – Precious Stone Bracelet
Blue (Rich Royal Blue )and white veined Sodalite and yellow Kynite Semi – Precious Stone Bracelet
The healing Properties of Sodalite are said to be ;
It encourages rational thought, objectivity, truth and intuition, along with verbalisation of feelings.
Sodalite brings emotional balance and calms panic attacks. It enhances self-esteem, self-acceptance and self-trust.
Sodalite balances the metabolism, boosts the immune system and overcomes calcium deficiencies.
Product description
Rich Royal Blue and white veined Sodalite and yellow Kynite Semi – Precious Stone Bracelet.
Strong Colours this Season
Be the first to review "Blue and white veined Sodalite and yellow Kynite Semi – Precious Stone Bracelet"